Morphée
Regular price

$96.47

Sale price

$82.01
Morphée is a fantastic sleep and meditation device that helps you relax, unwind, fall asleep quickly and improve the quality of your sleep through different types of guided sessions that last between 8 and 20 min.

Designed in collaboration with sleep professionals and sophrologists experts, Morphée is a natural solution to manage anxiety, stress, and insomnia. Over 500,000 customers already use Morphée's relaxation and meditation sessions across Europe, to aid in their overall mental and physical health through meditation, relaxation and sleep.
Helps you relax, unwind, fall asleep quickly and improve the quality of your sleep
All sessions are conducted by sleep professionals
Non-digital, wave free and without screen for optimal efficiency

Over 200 combinations of guided meditation sessions
Battery operated (7 days autonomy) or plugged in

Dimensions: 10 cm x 7cm
Weight: 240g
100 Night-trial
2 years warranty
100-NIGHT TRIAL

We know the best way to see if Morphée would be a great fit for you and your family would be to test it out.

That's why you will have 100 nights to try it out once you have received it.

Learn more here
FREE & FAST SHIPPING

We offer FREE Next Day Delivery* on all orders!

Orders placed Monday to Friday before 12 noon will be dispatched the same day.


Orders placed over weekends and bank holidays will normally be shipped the next working day.

*Conditions applies, find out more here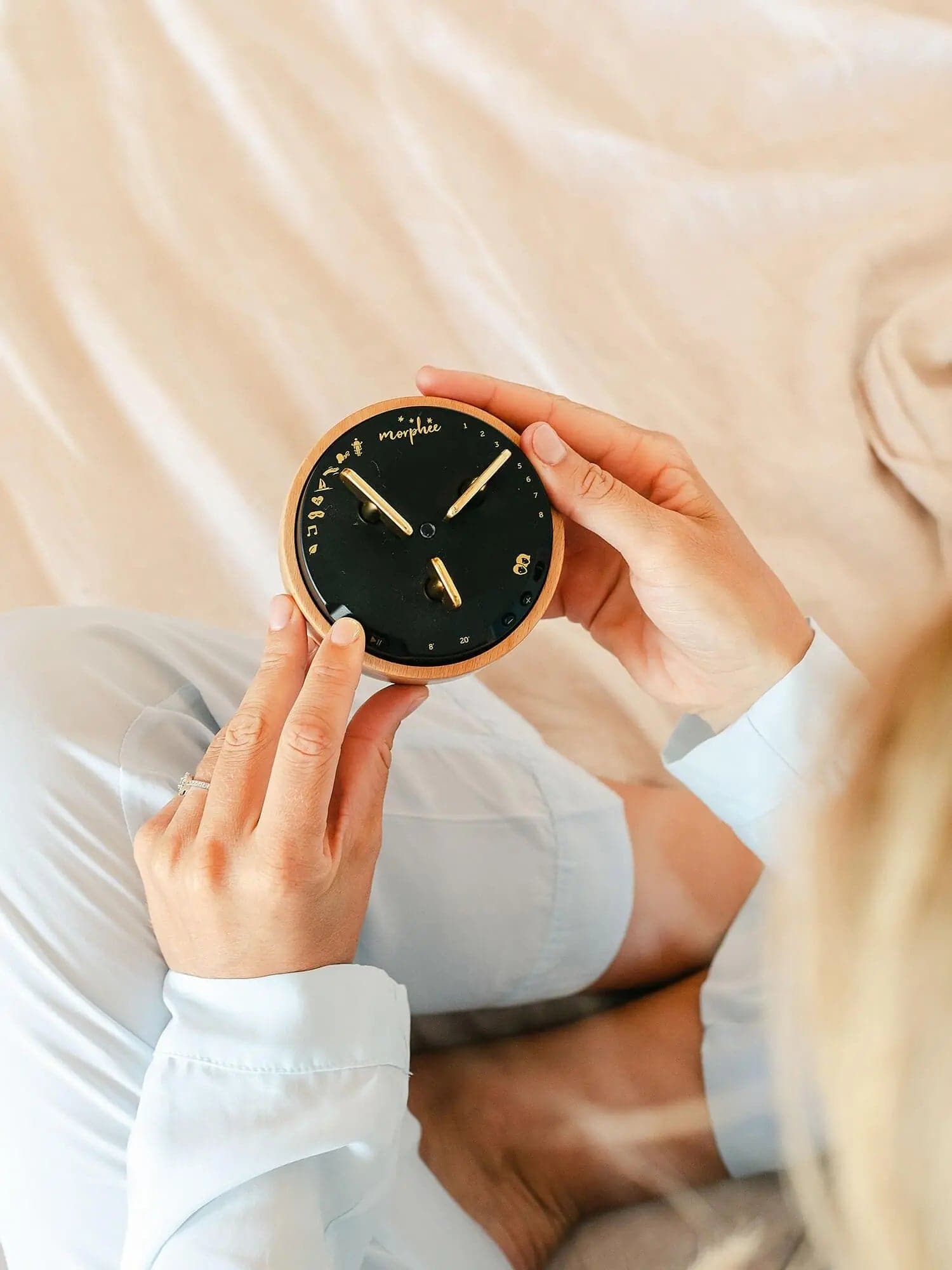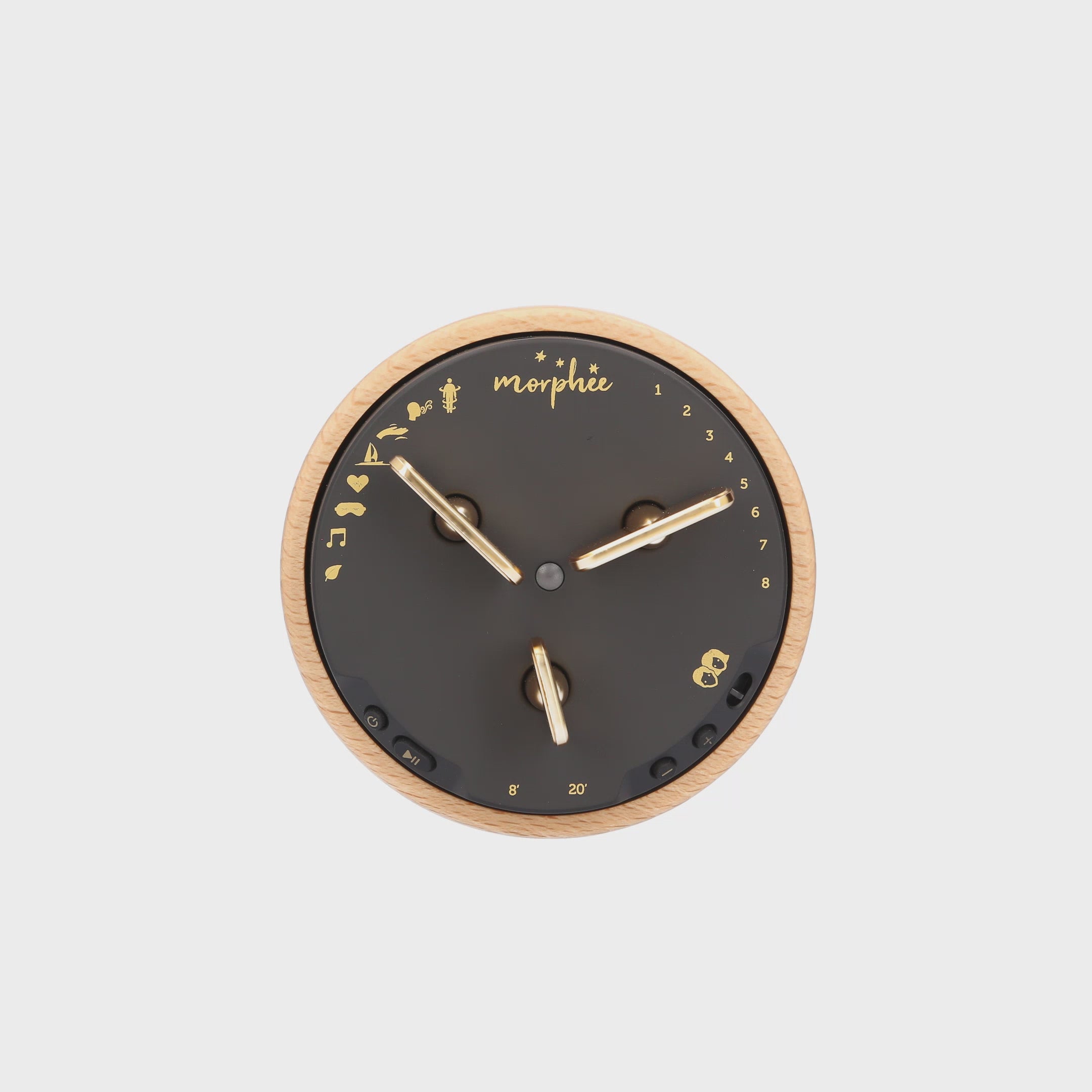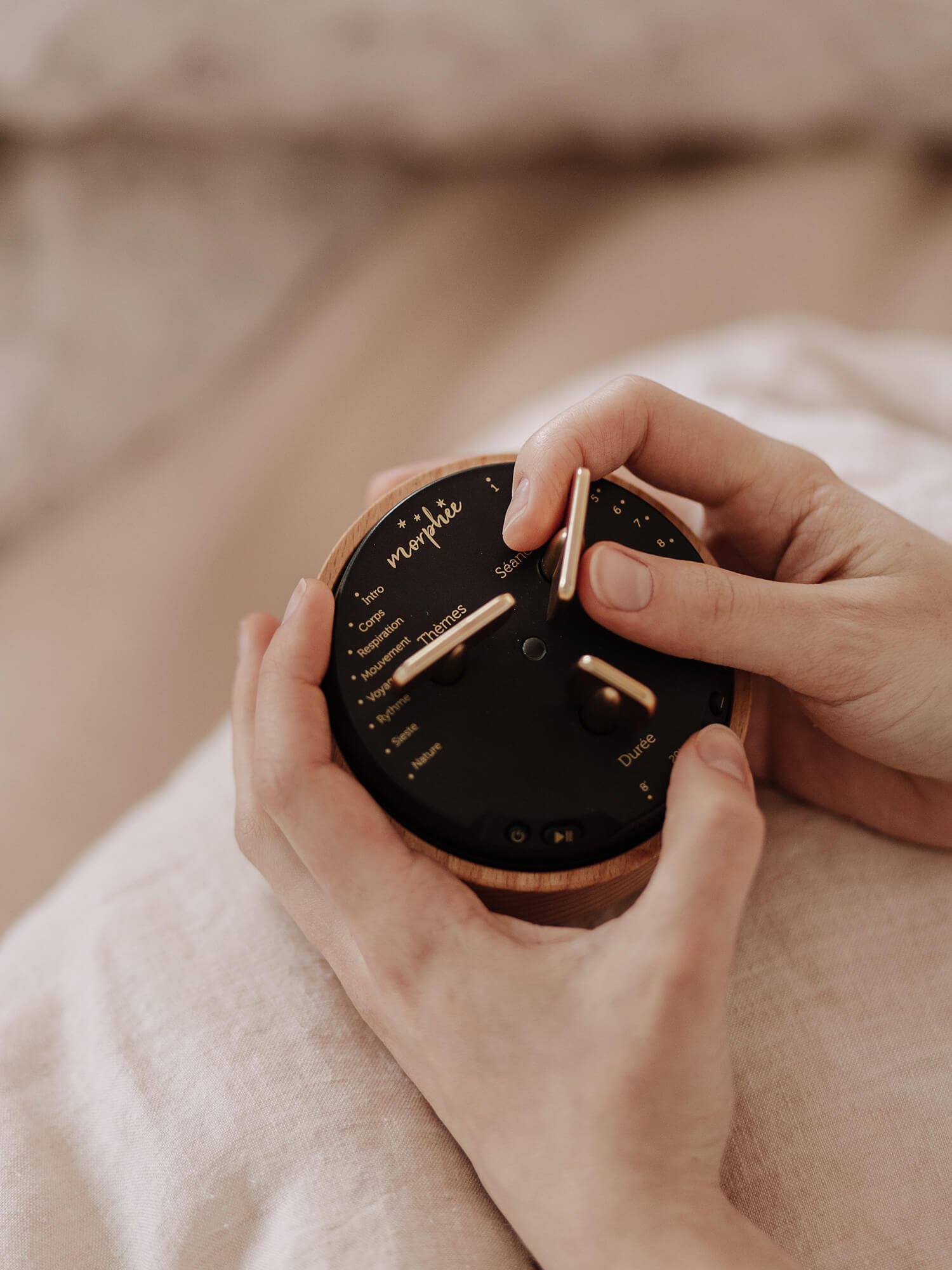 210 guided sessions

All carried out by sleep experts

Non-digital

Wave and screen free, for optimum efficiency

Effective

All sessions conducted by sleep professionals

Portable

Morphée wooden base can also be used as a key dish
How does Morphée work?
Morphée uses a simple three-key system with no screens or digital interfaces. With the first key, you can choose from one of eight themed sessions such as breathing, cardiac coherence, napping, visualisations, or nature sounds.
With the second key, you can select one of eight training sessions per theme and finally the third key determines the length of each session - either 8 or 20 mins.

You can also choose the voice of your audio guide, whether a male or female voice.
Turn the 1st key

Choose one theme among the 8 relaxation techniques offered.

Turn the 2nd key

Select one of the eight training sessions per theme.

Turn the 3rd key

Choose the length of your session: 8 or 20 minutes.
Listen to Morphée's sessions
Morphée offers 210 combinations of guided sessions, all of which are carried out by a team of relaxation professionals, supervised by Florence Binay, soprhologist and sleep specialist.
Discover Morphée's most popular themes.
Nature sounds

Breathing sessions

Movement

Visualisation

Body Scan

Cardiac coherence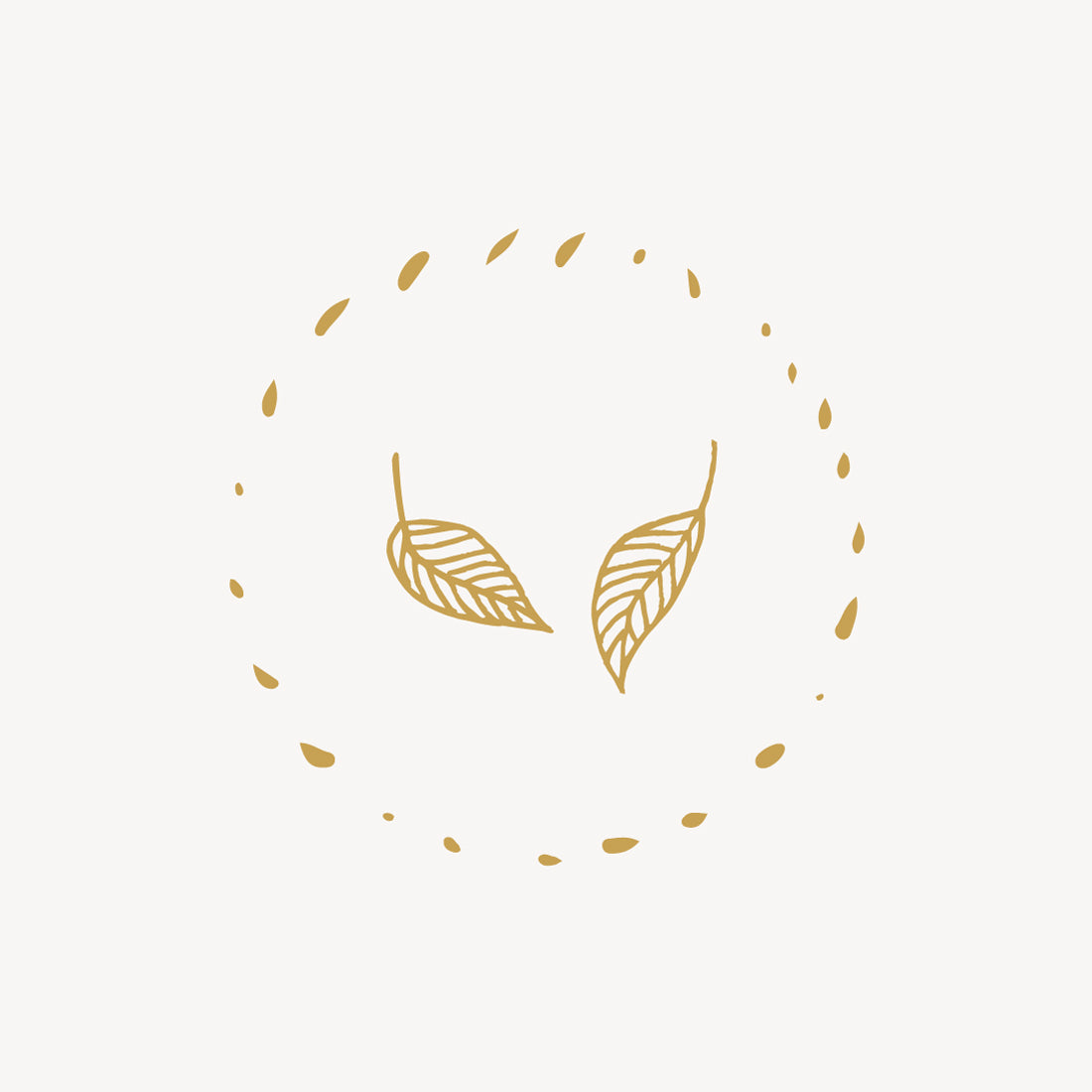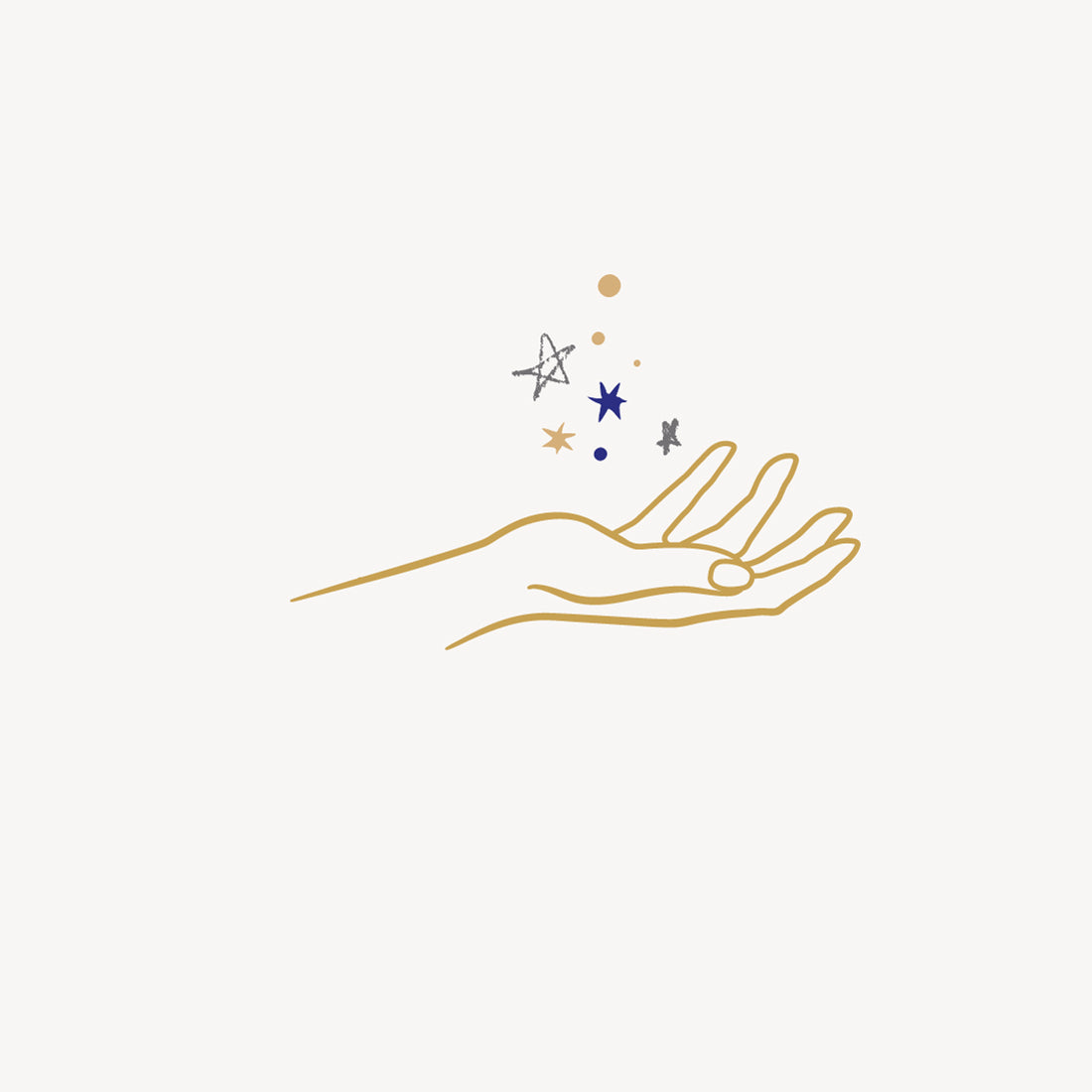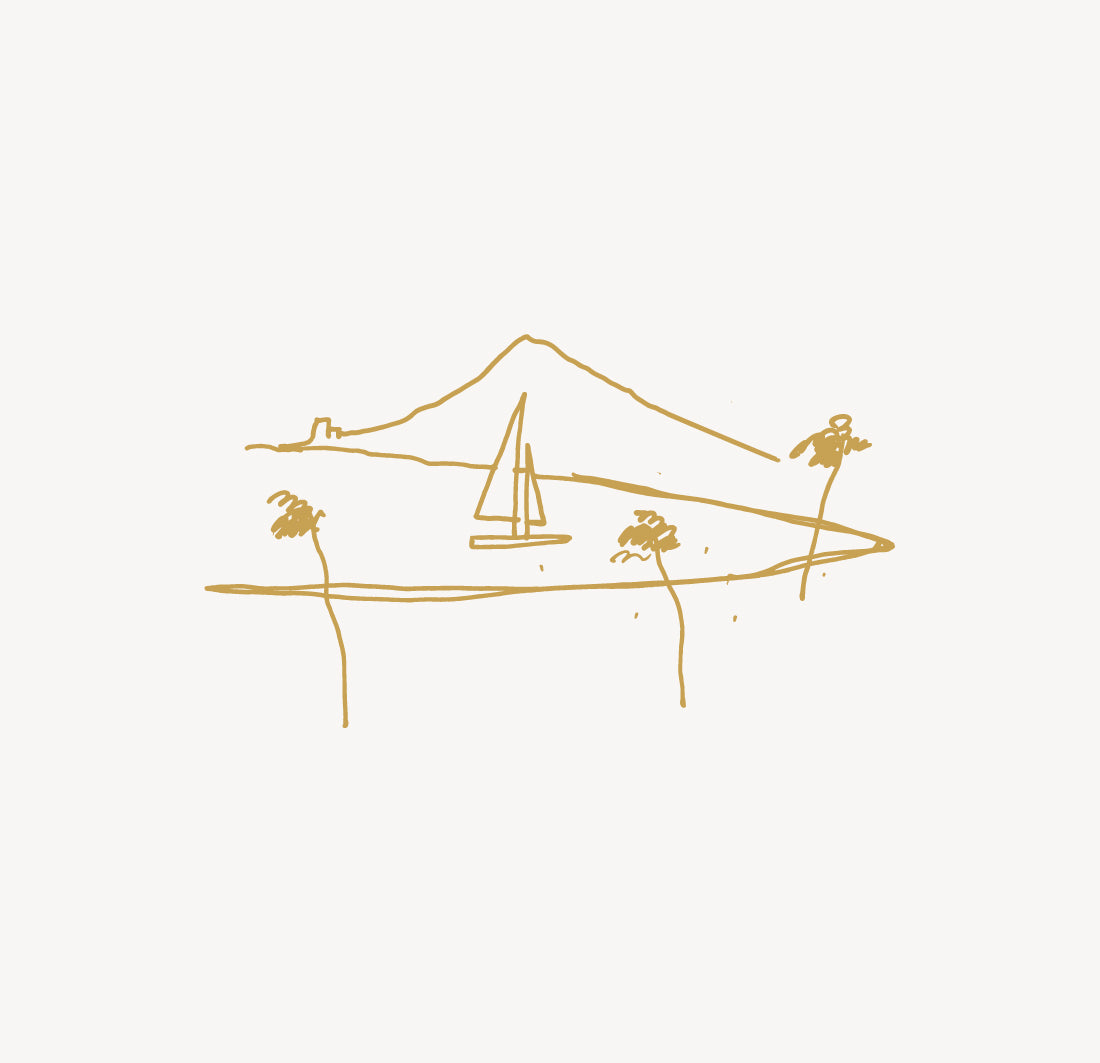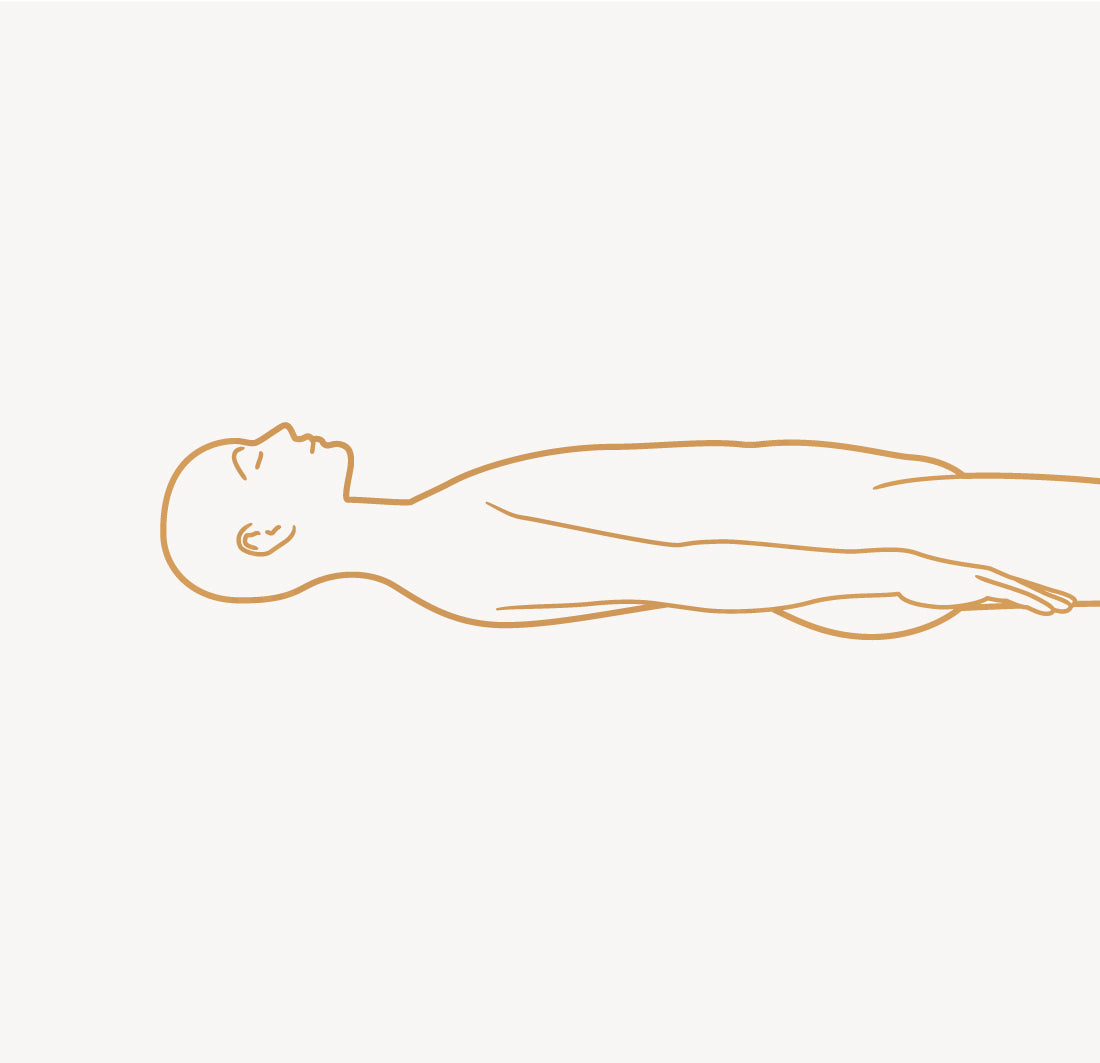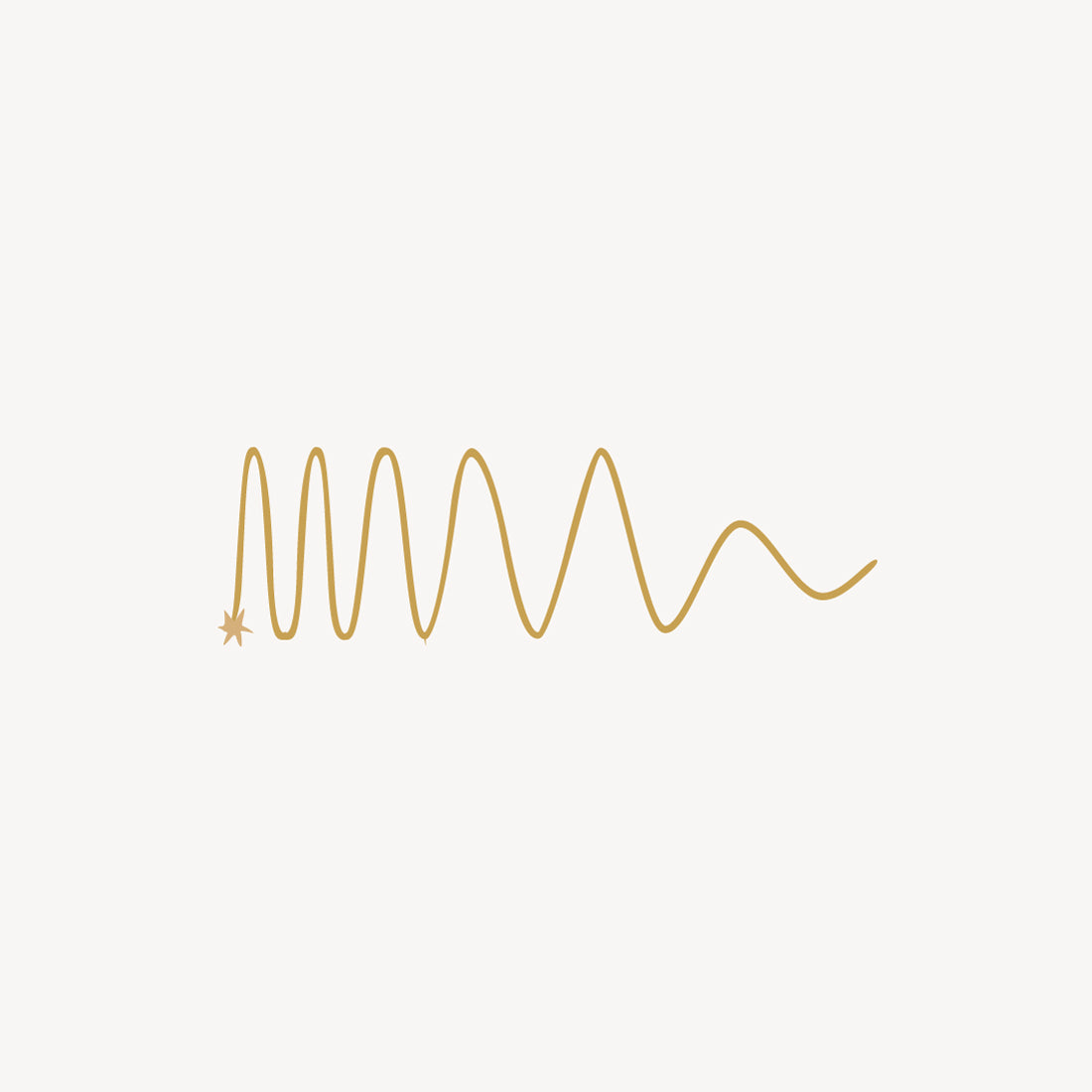 What's inside your Morphée box?
When you order a Morphée device, you will receive one device with a beechwood cover, one micro-usb cable and one booklet with the instructions and the different combination possible. Enjoy!
Most Frequently Asked Questions
Here we have collected your most frequently asked questions about Morphée.
Is it possible to use Morphée during the day?

The "Nap" session invites you to take a moment during the day to rest and to recharge your batteries. You can also listen to other sessions during the day to relax and unwind.
Is Morphée suitable for children?

From the age of 8, children can use Morphée by themselves. Younger children can follow the sessions with their parents, or use My Little Morphée which has been especially designed for them!
We sleep together, how do we use Morphée?

There are several options available to you:

- You can share your session using the built-in speaker.

- You can plug in your headphones.

- You can also place Morphée on your mattress, close to your ear, and listen to your session without disturbing the person besides you.
Where can I use Morphée?

Morphée can be used at home or be taken withyou when you travel to work or for holidays.Our meditation and sleep aid device operates with an integrated battery and offers an autonomy of about 1 week of daily listening.
What is cardiac coherence?

The cardiac coherence workshops help to reduce the breathing rate from 10 to 6 breaths per minute.

This exercise slows down the heart rate and thus helps people fall asleep.  
Will Morphée ever be available on a smartphone?

Absolutely never! 😃

We have deliberately designed Morphée as a disconnected object, specially dedicated to sleep, and for good reasons. 

The smartphone is unanimously considered by all experts to be "the worst enemy of sleep".

At night, we strongly recommend that you leave it outside your room and in plane mode. This way you have the best chance of fully disconnecting from your day and getting a truly restful sleep.

Our phone keeps us on our toes, as it delivers notifications at all times. Its mere presence at our side stimulates this state of vigilance. It also creates agitation through the plethora of content it allows us to consult (social media, news, messages, etc.).

Finally, it generates blue light, making the body believe that it is still daytime, which blocks the secretion of melatonin, the sleep hormone.
How many sessions does Morphée have?

Morphée offers 210 combinations of guided sessions, carried out by a team of relaxation professionals, supervised by Florence Binay, sophrologist, and sleep specialist.

Breathing sessions: These 16 sessions allow you to relax by shifting your attention to your breathing. They allow you to calm your mind and cut yourself off from your day and fall asleep more peacefully.

Nature Sounds: 8 sounds of nature recorded in the four corners of the globe. For a complete immersion in nature: sea, jungle, storm, or cat's purr...

Visualisation: 16 visualizations that transport you to a soothing universe: the beach, the mountains,... To help you disconnect by visualizing pleasant situations.

Cardiac Coherence: 16 sessions of "cardiac coherence" to reduce the frequency of your inhalations and exhalations and calm your heart rhythm. Helps you relax your body and fall asleep.   

Body Scan: These 16 "body scan" sessions invite you to shift your attention to your body. To slow down the flow of thoughts and to promote physical relaxation.

Movement: These sessions invite you to gently contract certain muscles and feel them relax as you breathe out. They allow you to focus on your feelings and release muscle tensions. 

Napping: 16 dedicated sessions for a break in the day: 4min of relaxation followed by 8 or 20min of silence (depending on the format chosen), at the end of which the sound of birdsong announces the end of your siesta.

Relaxing Music: Discover the relaxing music composed by Gilles Maugenest especially for Morphée.
How long is the warranty?

Morphée is covered for a period of 2-years against any material and manufacturing defect under normal conditions of use.
I lost my manual, where can I find the instructions?

Morphée is easy to use thanks to its 3 keys:

- The one on the left side makes you choose the theme, 

- The one on the right makes you choose the session,

- The one at the bottom lets you choose the duration of the session.

Here the user manual if you want to see all the different combinations possible.
Thanks for giving us your feedback
Secure payment

100-night trial

2-year warranty

Free shipping