My Little Morphée
Regular price

$96.47

Sale price

$82.01
My Little Morphée is a non-digital, screen-free sleeping device designed especially for children aged three to eight years old. It contains 192 meditative journeys to prepare children before bedtime or help calm them down during the day. These sessions include visualisations, breathing and relaxation exercises, and guided meditations. All sessions were designed and carried out by sleep experts specialising in child relaxation.
The 128 soothing visual journeys transport children to different destinations (an island, desert, forest…), guided by an animal of their choice. Each animal represents a different facet of emotions, be it confidence, enthusiasm, wisdom, generosity, happiness, courage, curiosity, and independence, helping children develop their sense of self, improve concentration and focus, and foster emotional versatility.     
Help children develop their confidence, improve concentration and focus, and foster emotional versatility
Efficient. All sessions are conducted by sleep professionals
Non-digital, wave free and without screen for optimal efficiency
192 meditative journeys to prepare children before bedtime or help calm them down during the day
Ergonomic design made for small hands; perfect for traveling in cars, trains, or planes
3h of play mode (15 stories)
Dimensions: 17,5 cm x 7cm x 11 cm
Weight: 230g
100 Night-trial
2 years warranty
100-NIGHT TRIAL

We know the best way to see if My Little Morphée would be a great fit for your family would be to test it out.

That's why you will have 100 nights to try it out once you have received it.

Learn more here
FREE & FAST SHIPPING

We offer FREE Next Day Delivery* on all orders!

Orders placed Monday to Friday before 12 noon will be dispatched the same day.


Orders placed over weekends and bank holidays will normally be shipped the next working day.

*Conditions applies, find out more here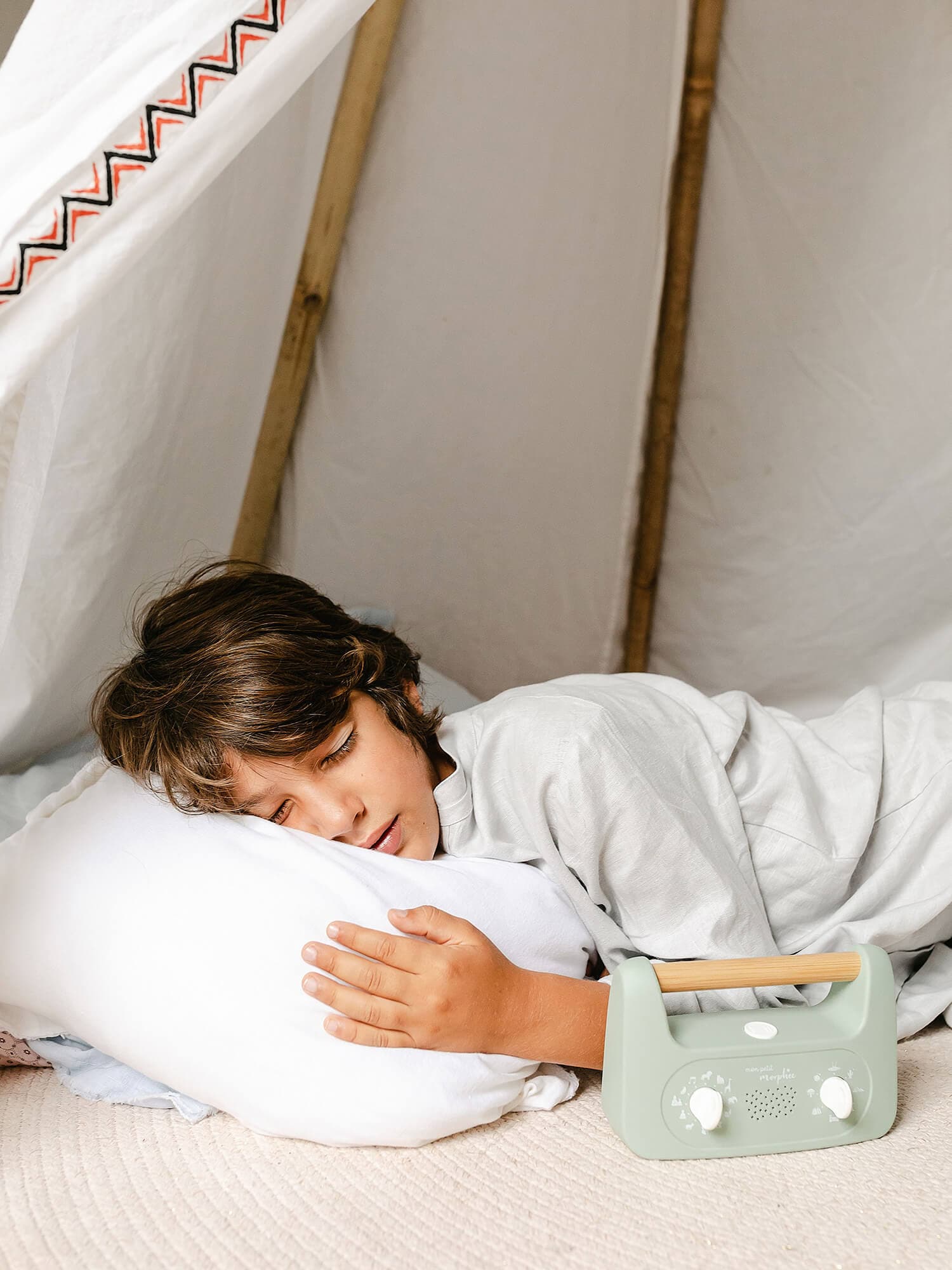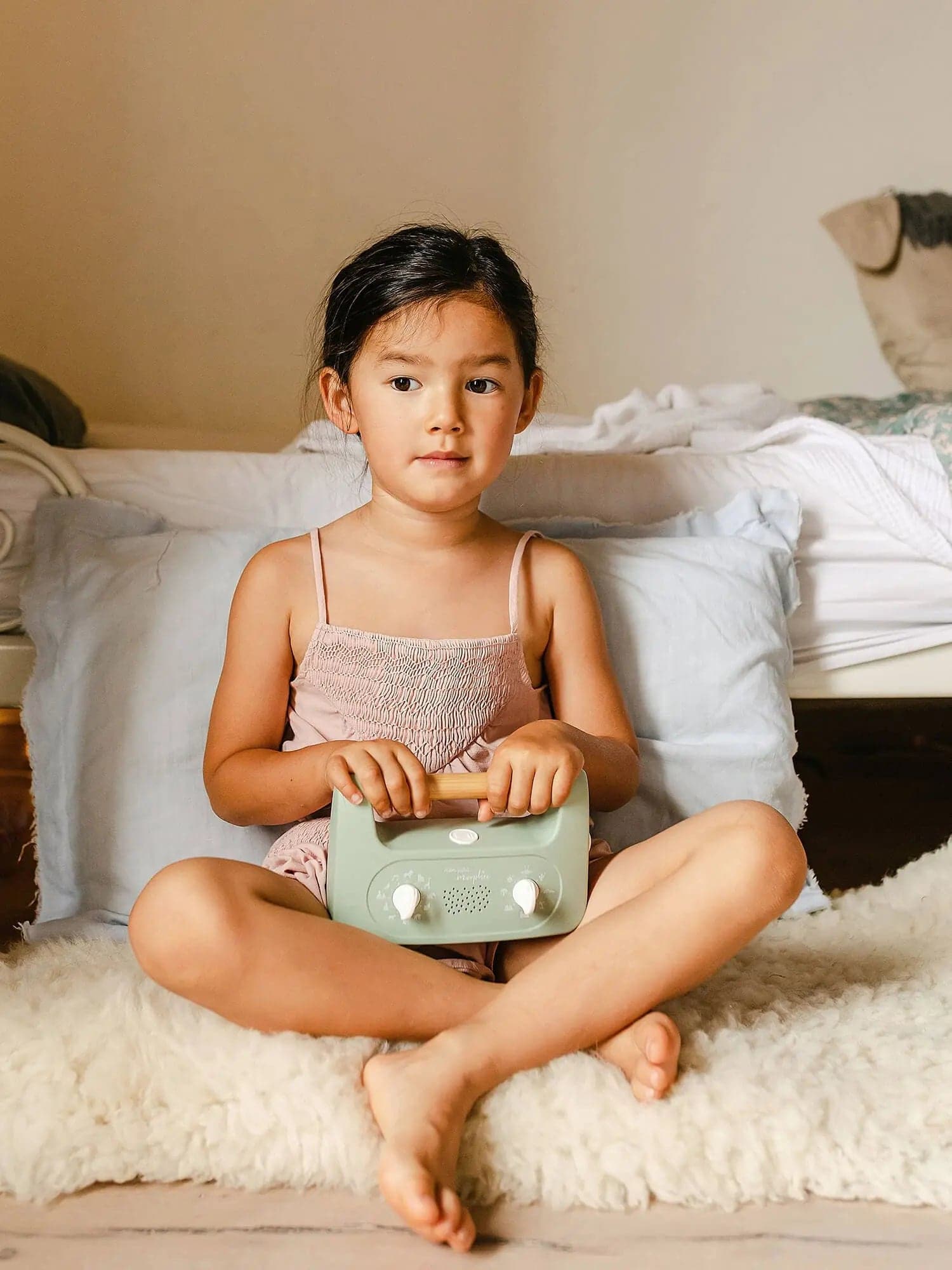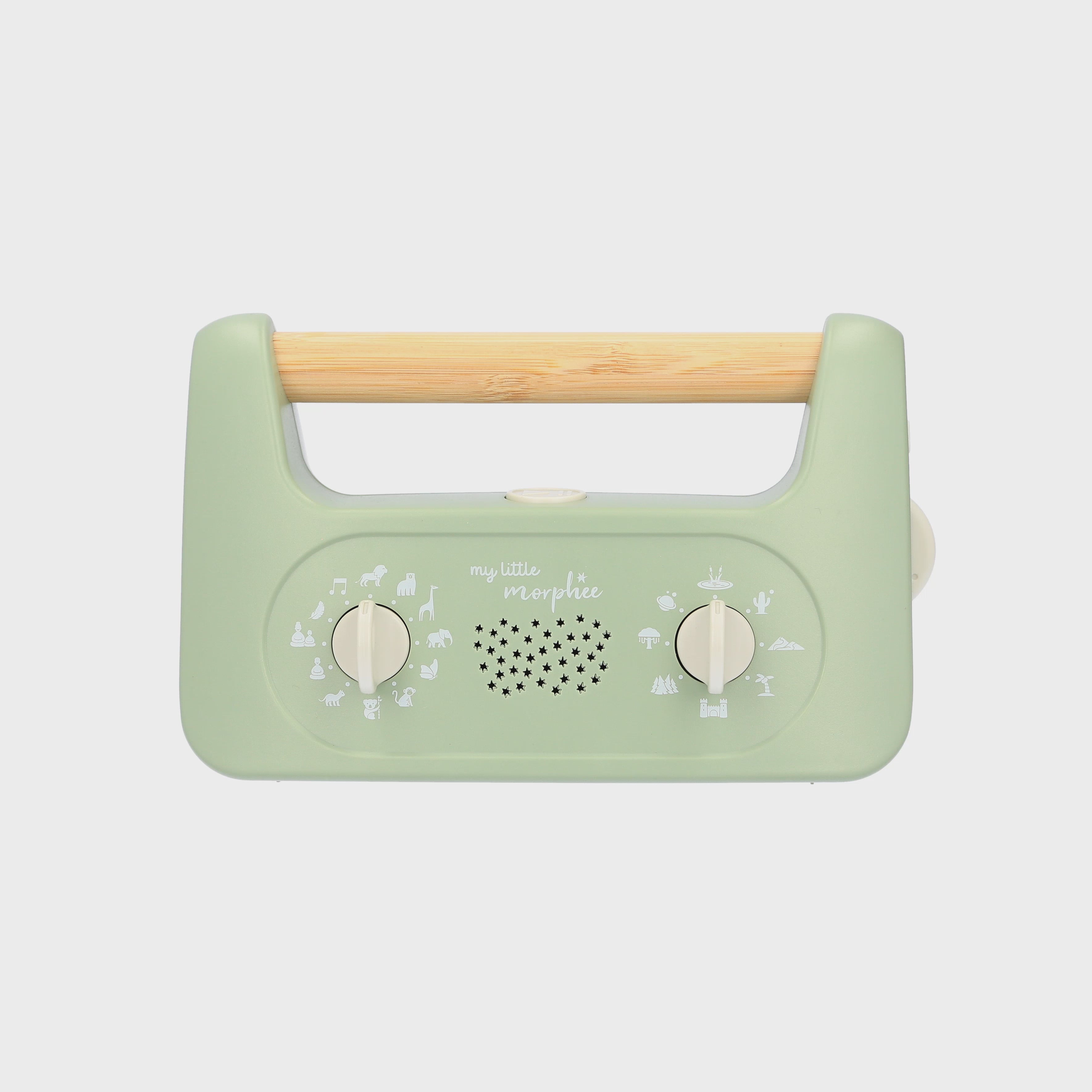 192 guided sessions

All carried out by sleep experts

Non-digital

Wave and screen free, for optimum efficiency

Effective

Helps children regain calm before bedtime

Portable

Perfect for travelling in cars, trains, or planes
How does My Little Morphée work?
Morphée uses a simple two-key system with no screens or digital interfaces. With the first key, the child chooses its animal companion (lion, giraffe, monkey…), with the second key children select the universe they will explore (forest, beach, island...) and a button on the side selects the duration of the session (8 or 16 minutes).
The meditation journeys help children to gain control and calm their emotions, while the 16 nature sounds and 16 soft music tracks help them unwind and relax.
Turn the first key

Choose the theme of your session: a soothing journey, a guided meditation, nature sounds or soft music.

Turn the second key

Choose the world you want to escape to: an island? The mountains? Or the farthest reaches of space?

Then position the hourglass

Choose between an 8 or 16 minute session
Listen to My Little Morphée's sessions
My Little Morphée offers 192 sessions conducted by professionals in children's relaxation:

Sophie Le Millour, sophrologist and founder of La Bulle des Emotions
Nadège Pétrel, childcare nurse and creator of Un Amour au Naturel
Soothing Journeys

Guided Meditations

Group Meditations

Soft Music

Nature Sounds
Through these stories, children choose which animal they want to travel with and discover their own resources: the curiosity of the Koala, the confidence of the Lion...
Listen
To be carried out alone or with others. Through these meditations, children tame their emotions. They develop their self-confidence and concentration.
Listen
With these 16 sessions, children can choose to do a meditation session with an adult, siblings or a friend. Here's an excerpt from the "meditation in the desert" session.
Listen
Music illustrating each universe, composed by Gilles Maugenest.
Listen
For each world, children can discover soothing nature sounds.
Listen
What's inside your Morphée box?
A My Little Morphée device, a Micro-USB cable, and a booklet detailing the instructions of use and the different sessions. Enjoy!
Let us answer your questions
Here we have collected your most frequently asked questions about My Little Morphée. Do not hesitate to contact us if you can't find what you're looking for!
Is it possible to use My Little Morphée during the day?

Of course! My Little Morphée helps children to calm down and recharge batteries during the quiet times of the day: after lunch, when returning from school or a sport activity, but also in case of small annoyances...
How long are the My Little Morphée sessions?

Children can choose between two session: 8 or 16 minutes.
Is My Little Morphée suitable for children above 10 years old?

My Little Morphée has been specially designed for children age between 3 to 8 years old. It can of course be suitable up to the age of 10.

Beyond, we recommend  Morphée
Is My Little Morphée robust enough?

We designed My Little Morphée to make it as robust as possible. In fact, it has passed numerous strength tests with flying colours.
How many sessions does My Little Morphée have?

My Little Morphée offers 192 sessions on relaxation, visualisation, breathing, music and sounds of nature...

All sessions were carried out by sleep experts.
Will My Little Morphée ever be available on smartphone?

Never! My Little Morphée is deliberately non-digital and especially designed to let children relax and help them fall asleep.

Indeed, all experts are unanimous: waves, blue light and notifications emitted by smartphones do not go well with sleep and letting go, especially for children.
Does My Little Morphée run on battery or main power?

The battery lasts 3 hours on play mode, which is almost 15 stories!

My Little Morphée needs an hour and a half to be fully charged.

It can be charged in two ways:

- by connecting it to a computer (with USB cable provided)

- using a USB power adapter (not included)
How long is the warranty?

My Little Morphée is covered for a period of 2-years against any material and manufacturing defect under normal conditions of use.
I lost my manual, where can I find the instructions?

If you've lost the user manual on how to use your My Little Morphée, don't worry we have you covered!

Click here to use My Little Morphée at the fullest!
Thanks for giving us your feedback
Secure payment

100-night trial

2-year warranty

Free shipping