Morphée Zen
Regular price

Sale price

$77.17
The ultimate relaxation device that helps you calm down and regain control of your stress levels whether you're on the move, at the office, or unwinding at home. With its 72 relaxation and meditation sessions, Morphée Zen disconnects you from the stresses around you including your phone. The sessions allow for uninterrupted tranquillity, so you can fully immerse yourself in the soothing ambiance of each session without distractions from calls, messages, or social media.
Each relaxation and meditation session has been thoughtfully curated by a team of health and well-being professionals, including sophrologists, hypnotherapists, and psychologists. Their expertise ensures that every session is tailored to effectively calm your mind, release tension, and create a state of deep relaxation.
Whether you're looking for a thoughtful present for a loved one or a way to treat yourself, Morphée Zen is the perfect gift for anyone seeking balance and tranquillity in their lives.
Reduces stress, anxiety and improves long-term concentration
Sessions created by health and well-being professionals
100% offline functionality for on-the-go relaxation
72 meditation and sophrology sessions, each lasting 5 minutes

4 languages to choose from: UK-FR-DE-NL
6 captivating themes including Deep Relaxation, Dynamic Relaxation, Immersive Journeys, Sounds of Nature, Relaxing Music, and quick 2-minute Chrono Zen Sessions
Battery

autonomy in play mode: 2 hours



Dimensions: 7.8 x 7 x 1.2 cm
Weight: 76.8g
100 Night-trial
2 years warranty
100-NIGHT TRIAL

We know the best way to see if Morphée would be a great fit for you and your family would be to test it out.

That's why you will have 100 nights to try it out once you have received it.

Learn more here
FREE & FAST SHIPPING

We offer FREE Next Day Delivery* on all orders!

Orders placed Monday to Friday before 12 noon will be dispatched the same day.


Orders placed over weekends and bank holidays will normally be shipped the next working day.

*Conditions applies, find out more here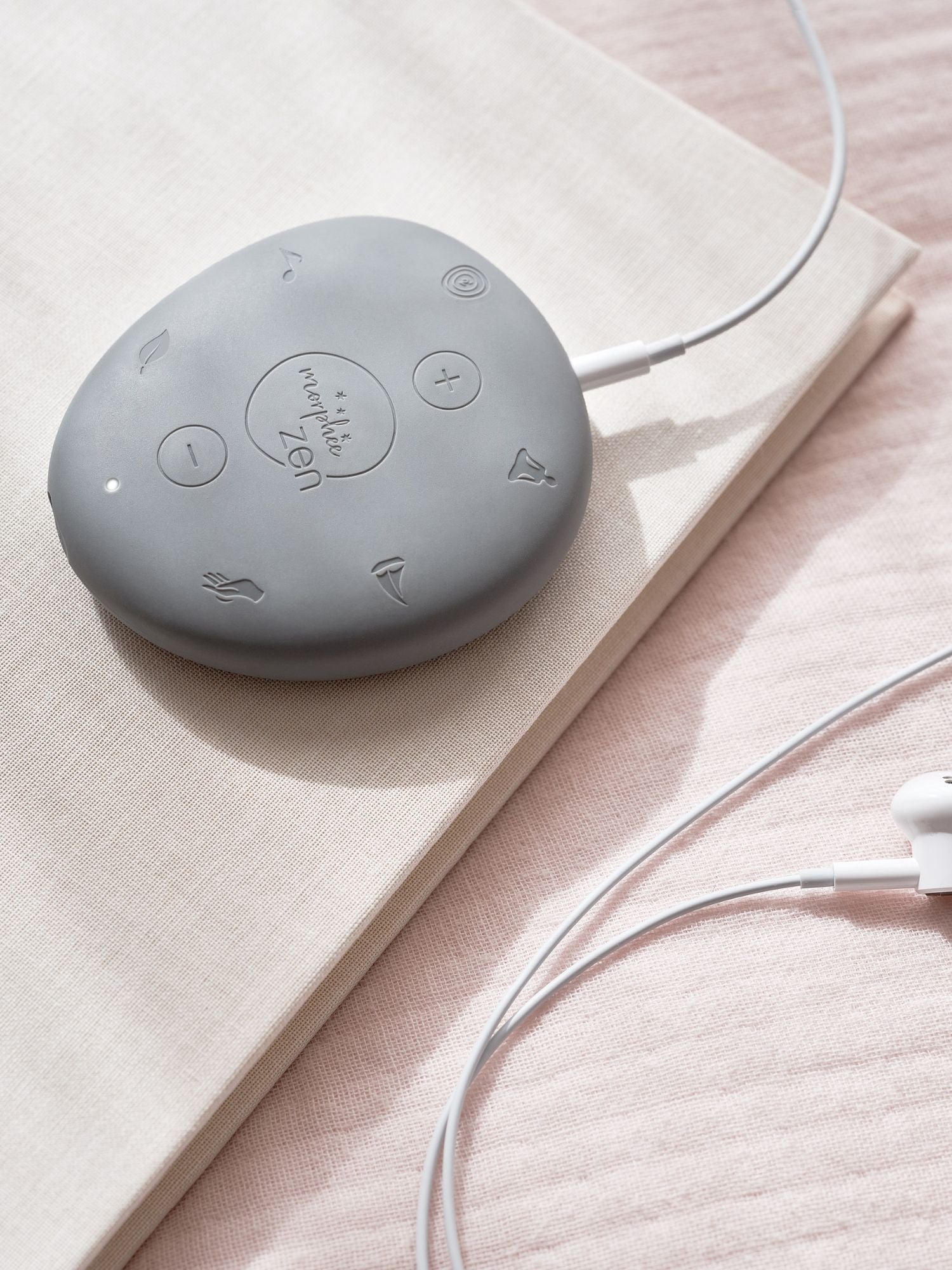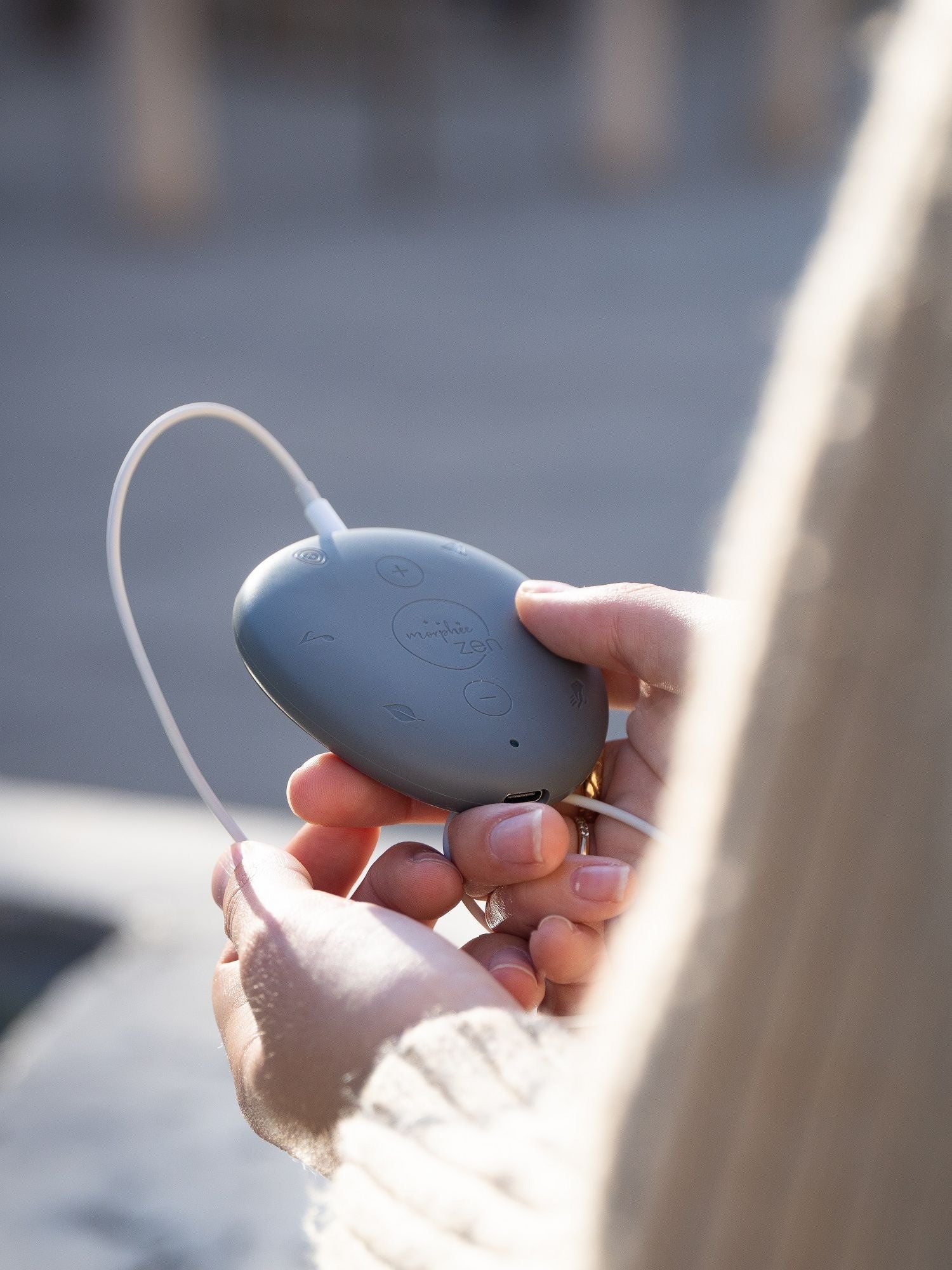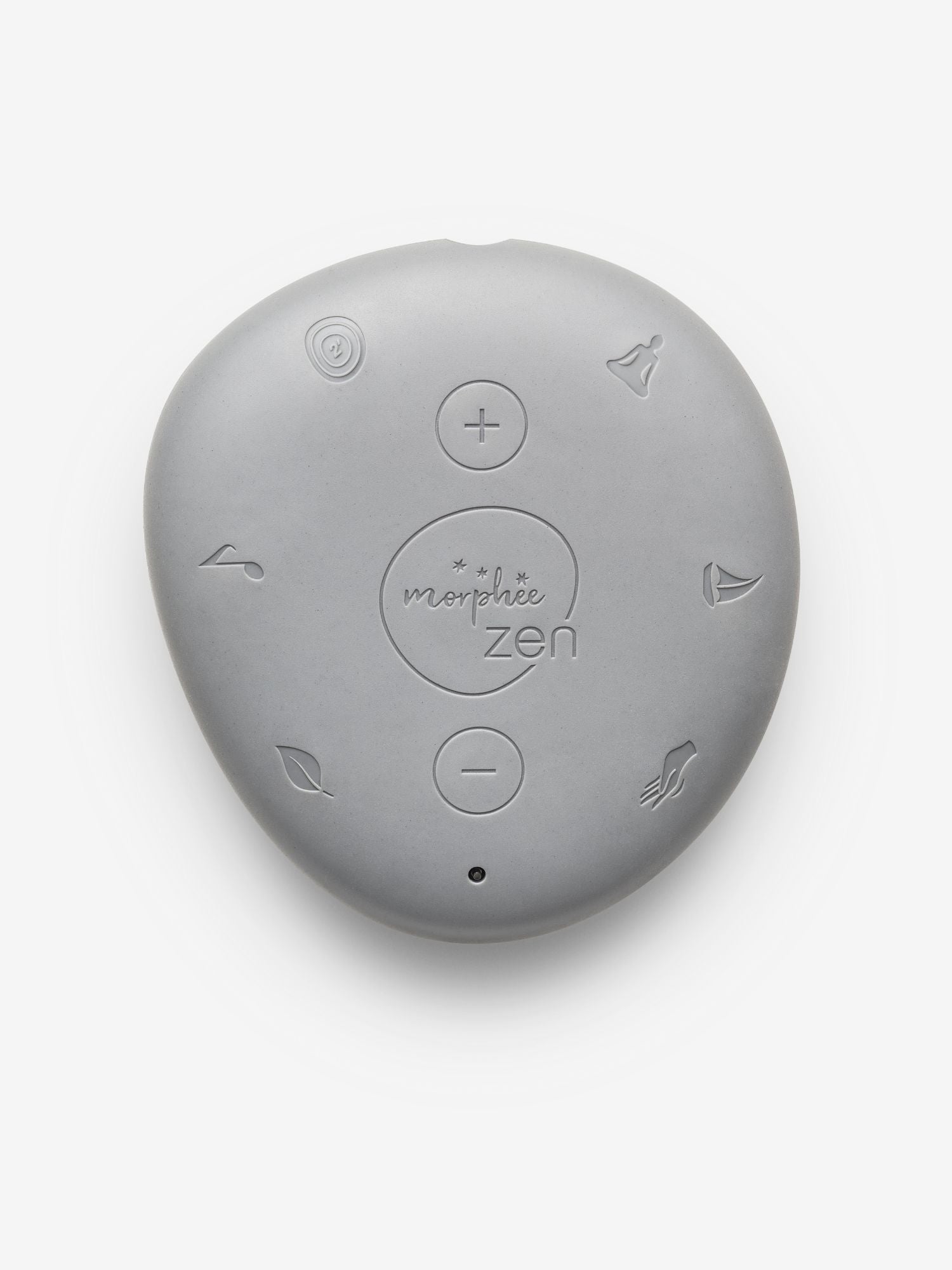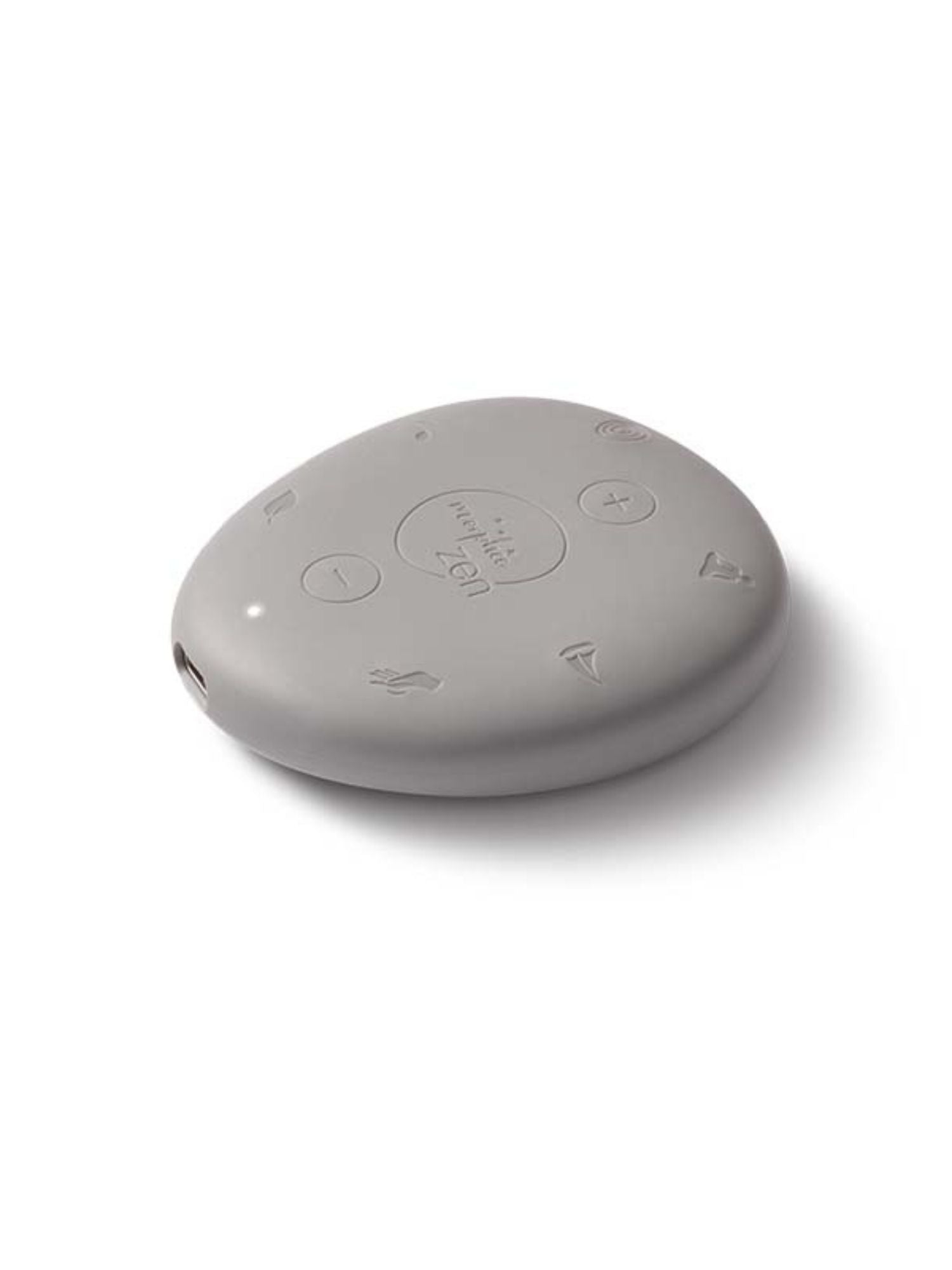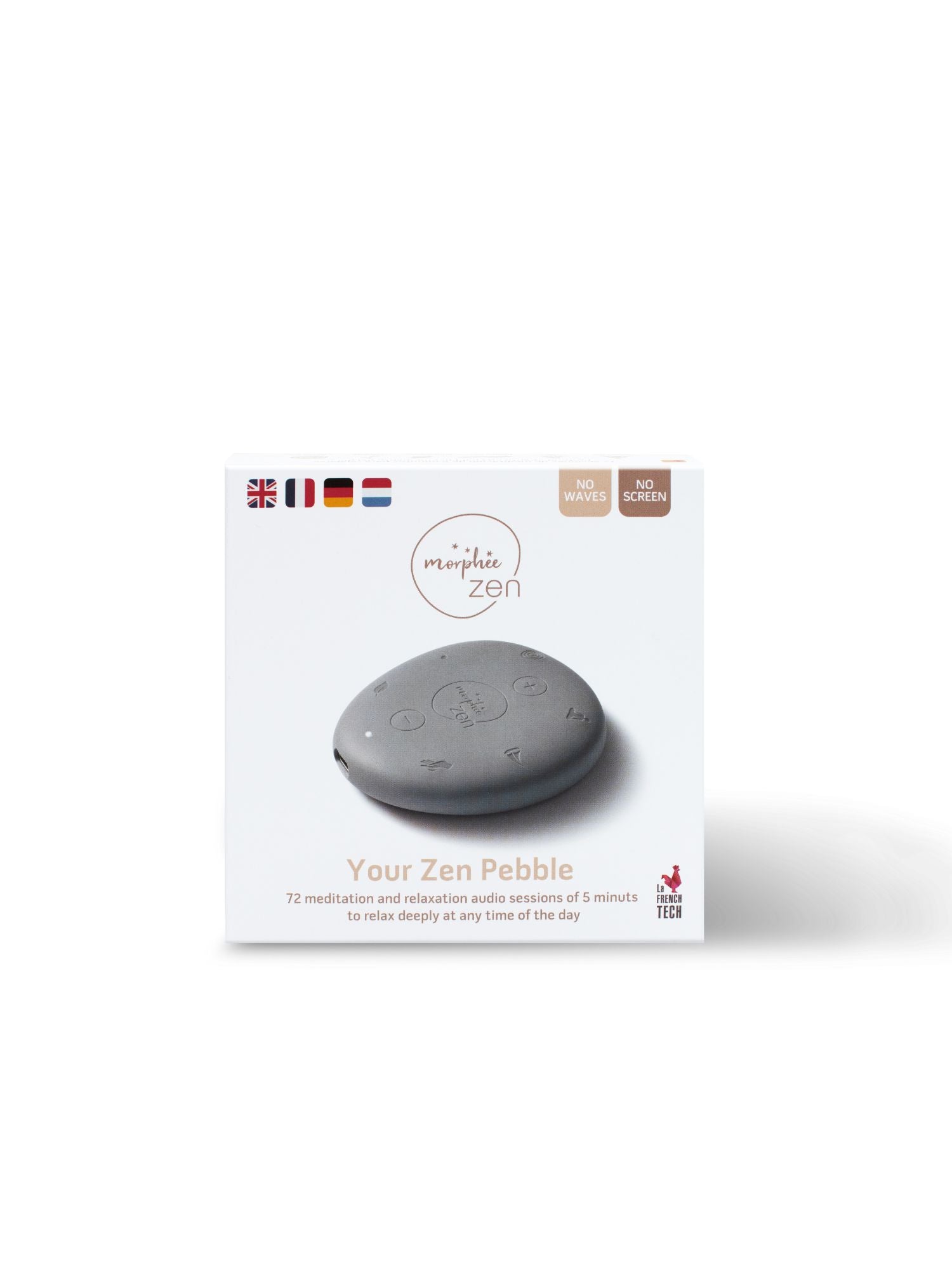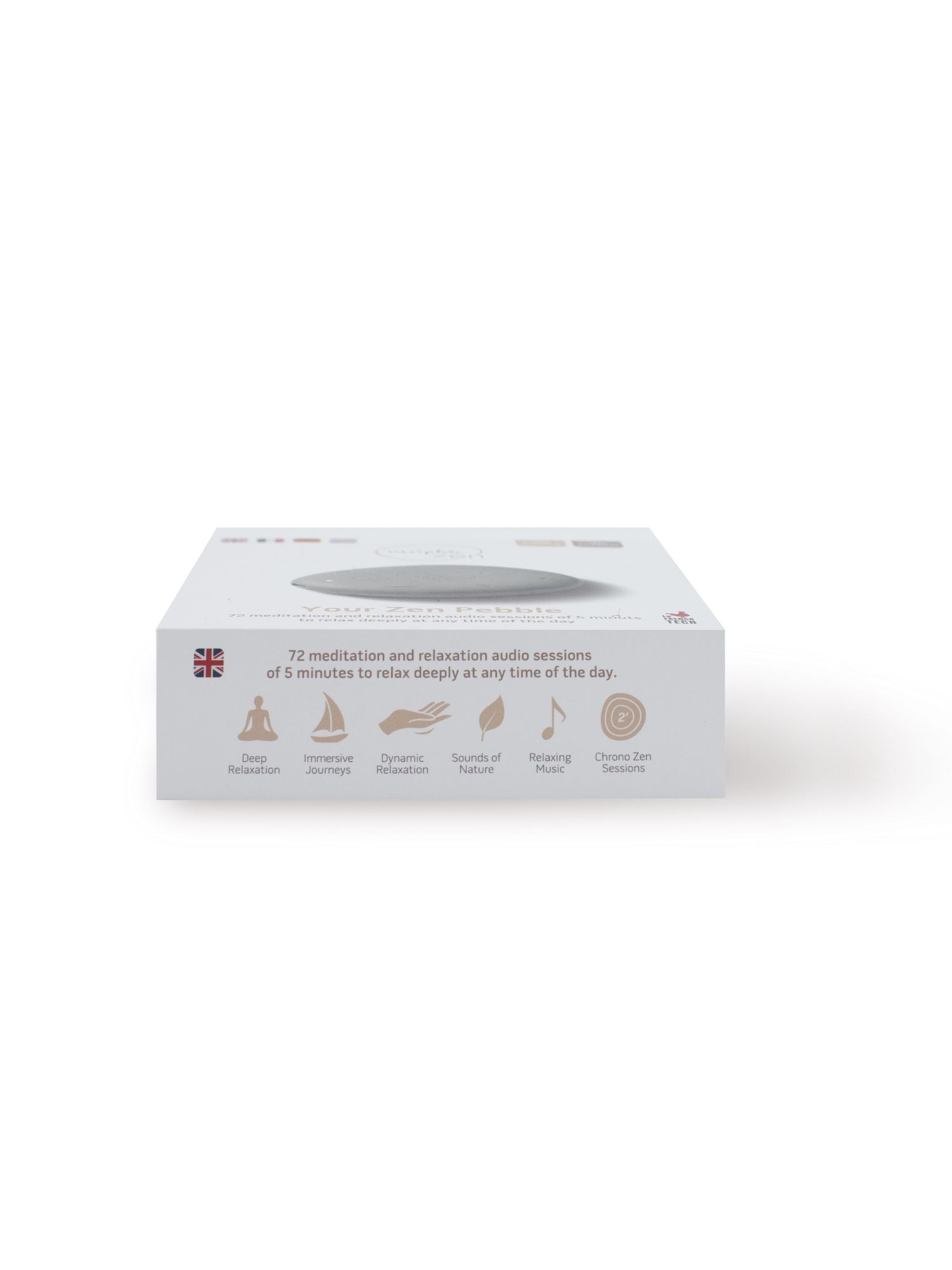 How does Morphée Zen work?
Using Morphée Zen is easy. Simply plug in the provided headphones, find a comfortable position, and press the central button to activate the device. Users can select their desired session by clicking on the corresponding icon. With session durations of 2 or 5 minutes, Morphée Zen accommodates busy schedules without compromising on the effectiveness of relaxation. There is also an option to choose between a male or female voice which adds a personal touch to the experience.
Swich on the Morphée Zen

By pressing the central button.

Choose a session

By clicking on the icon of your choice.
Listen to Morphée Zen's sessions
Morphée Zen is a powerful tool for relaxation, offering 72 audio sessions that can be enjoyed at any time of the day. With a diverse range of themes including Deep Relaxation, Immersive Journey, Dynamic Relaxation, Nature Sounds, Relaxing Music, and Chrono Zen Session, Morphée Zen allows users to tailor their relaxation experience to their individual preferences.
Discover Morphée Zen's most popular sessions.
Nature sounds

Journey

Deep relaxation

Relax music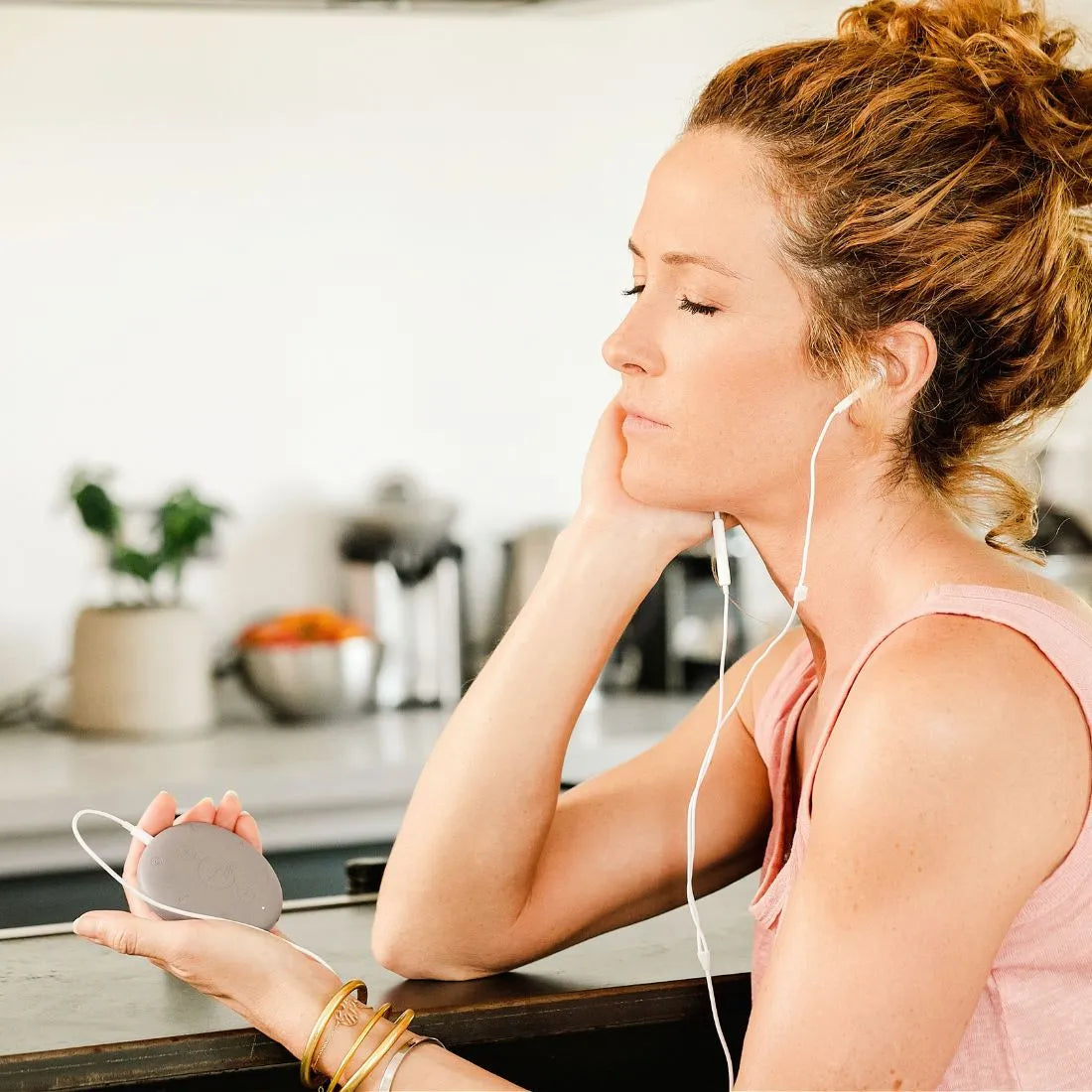 What's inside your Morphée Zen box?
When you open the box of Morphée Zen, you will find everything you need to embark on your journey of relaxation. The box includes the Morphée Zen pebble, a user guide that provides clear instructions on how to maximise your experience. To ensure uninterrupted usage, a USB-C micro cable is included for convenient charging of the device. Additionally, the box contains a pair of wired headphones, allowing you to fully immerse yourself in the soothing audio sessions and create a serene environment wherever you choose to relax. Enjoy!
Most Frequently Asked Questions
Here we have collected your most frequently asked questions about Morphée.
CAN I USE MORPHÉE ZEN TO FALL ASLEEP?

We have carefully designed Morphée Zen to help you relax and unwind during times of anticipated stress or when you feel the weight of the day bearing down on you.

If you find yourself struggling to fall asleep, we recommend our Morphée sleep aid which will effortlessly guide you into a peaceful slumber and ensure a night of rest.
CAN I USE MORPHÉE ZEN WHEREVER I AM?

Absolutely! Morphée Zen was specifically designed with portability in mind. You can conveniently bring it along wherever you go - whether you're on public transport, at work, or enjoying the comforts of home. To enhance your experience, the device is meant to be used with the included headphones, allowing you to fully immerse yourself in the guided sessions.
CAN I USE MORPHÉE ZEN WITHOUT HEADPHONES?

For optimal efficiency and total immersion, Morphée Zen can only be used with headphones (supplied).
HOW TO LISTEN TO MORPHÉE ZEN?

To ensure a true bubble of disconnection during your busy days and to discreetly accompany you wherever you go, Morphée Zen is designed for use with wired headphones only.

At Morphée, we prioritise a 'wave-free' disconnection experience. That is why we consciously chose not to include Bluetooth connectivity on your device. However, it is still possible to connect a Bluetooth adapter to the jack, allowing you to enjoy the benefits of wireless listening if desired.
ARE THE SOUNDS OF NATURE AND RELAXING MUSIC THE SAME AS ON MORPHÉE?

At Morphée, we take pride in the uniqueness of each of our products, just like our diverse range of users!

As you explore Morphée Zen, you'll have the delightful opportunity to experience new creations through the captivating compositions of Gilles Maugenest. We hold great admiration for Gilles, as he skilfully crafts all the music that accompanies our products.
CAN MY CHILD WHOM IS PRONE TO STRESS AND ANXIETY USE MORPHÉE ZEN?

Morphée Zen is recommended for individuals aged 12 and above, making it suitable for your child to use.

In case your child is younger, we have a wonderful solution called My Little Morphée, specifically designed to assist children in finding calmness and managing their emotions. It also provides comforting support during bedtime routines, creating a peaceful environment for your little ones.
WHAT IS THE DIFFERENCE BETWEEN MORPHÉE ZEN AND MORPHÉE?

Both devices are tailored to cater to different needs at specific times, empowering you to find tranquillity and well-being throughout your day and night.

Feel free to use Morphée Zen at any time during the day when you need instant stress management. As for Morphée, it is best utilised in the evening as part of your bedtime routine, promoting relaxation and preparing your mind for a peaceful sleep.
I lost my manual, where can I find the instructions?

Here is the user manual which provides a comprehensive overview of all the various combinations and possibilities available.
Thanks for giving us your feedback
Customer Reviews
25/09/2023
Anonymous

United Kingdom
I recommend this product
Morphee Zen
Really enjoying using it
06/09/2023
Anonymous

United Kingdom
I recommend this product
Lovely little pebble
Lovely little pebble device that can be taken anywhere. Can use with earphones + I bought a small speaker to plug in when I don't need to use earphones. A good selection of relaxing meditations & breathing exercises.
15/07/2023
Anonymous

United Kingdom
I recommend this product
Fill your day with calm!
The Morphée Zen is a wonderfully compact portable pocketful of calm. I love how easy it is to use and the various options including 2 minute Zen sessions! The relaxing piano music pieces are also a lovely touch. Highly recommended!
Thank you so much for taking the time to leave such a wonderful review. It's fantastic to know that the relaxing piano music have added an extra touch of serenity to your experience. Your recommendation means a lot to us. Thank you once again for choosing Morphée Zen and for sharing your positive experience! The Morphée Team ❤
Secure payment

100-night trial

2-year warranty

Free shipping